People put so much stress on themselves all year long, but between Thanksgiving and Christmas, the internal perfectionist kvetches very loudly. "Everything has to be just perfect" is a tough taskmaster; parties, menus, gifts, clothes, music — so many choices, and the pressure to recreate mystical unicorns of holidays past, can add to already mounting anxiety. With long term unemployment, fear in the economy and crushing debt, not to mention dysfunctional families and jobs, there is more than enough stress to go around. Here are some ideas to help you navigate through some of it now and the whole year through. Wishing You All the Best!!
The Chart
Editor's note: CNN contributor Amanda Enayati ponders the theme of seeking serenity: the quest for well-being and life balance in stressful times.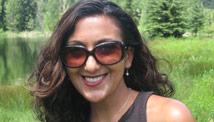 I have been examining stress from every which angle for the past six months.
And since, by now, I have sufficiently stressed out my editor and probably some readers with essays that often run well over  my assigned length, this week I'm offering up a lightning round of some of the most compelling stress-busting strategies I've come across.

View original post 764 more words